The 2018 Herald-Sun Classic – Sunday Tee Times
June 23, 2018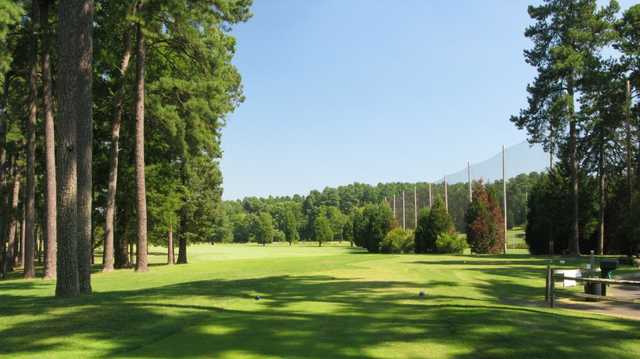 Hillandale Club Championship 2018 – September 22nd and 23rd
August 15, 2018
2018 Herald Sun Classic Final Results
The final matches have been completed and beginning with the Senior Division President's Flight Louis Herndon proved to be a strong match for Danny Bailey. Louis played consistently and was three up after 13 holes and held onto that lead winning his match on the 15th hole 4 and 3. The Senior Championship Match between defending champion Johnny Adams and Cecil Lockley got very interesting on the back nine. At the 12th hole, Cecil successfully made a slippery downhill left to right putt from 8 feet to maintain a three-up lead on Johnny. At the thirteenth things got more interesting when Cecil pulled his tee shot out of bounds and Johnny quickly narrowed the margin to 2. At the 14th Johnny out drove Cecil by hitting a perfectly placed tee shot and with Cecil playing first, he could apply some real pressure to Johnny. Cecil missed the green left and with the pin back right it was not going to be an easy pitch shot. Johnny knew he had to strike a beautiful iron shot and he did to 15 feet with a good look at eagle but Cecil wasn't finished. He placed a well-played run up shot to five feet and after Johnny missed, Cecil seized the moment to maintain his lead. Johnny made every attempt to bring the match within striking distance but Cecil proved worthy of the championship by closing Johnny out on the 17th to win by a margin of 3 and 1.
The Second Flight match between Drew Haywood and Cedell Alexander got off to a rocky start for Cedell early. He was three down early in the match and Drew showed no mercy continuing steady play and growing his lead. By the 13th hole Drew was already 5 up and Cedell quickly ran out of holes. The final margin was Haywood, 7 and 5.
The First Flight had Jack Tomkovick against Gary Newcomb and this match proved to be a good one. Jack fought hard and when he gained back a hole and narrowed Gary's lead to only one hole on the tenth by making a beautiful birdie, Jack gave it back by losing the eleventh. He simply couldn't out pace Gary. The margin stayed at 2 up and Gary is the First Flight Champion.
In the President's Flight, David Perry got a hold of a tiger's tail. Brian Campbell brought some distance to the game today and combine that with some fine short game and David was down by four after ten holes and lost the eleventh to go down by five. The match stayed that way until being finished by a margin of 5 and 4 giving Brian the President's Flight Championship.
Lastly the Championship Flight had Brian Gann facing off with Nick Karageorgos who played in his first Herald Sun Classic. Brian was down early to Nick and after winning the 10th with a par brought Nick's lead down to three holes. At the eleventh, Brian trying to narrow Nick's lead, lipped out a chip shot from 25 feet and Nick made his par putt to keep the match at his advantage. At the 12th things got very interesting. With Brian hitting first, it was believed his ball went out of bounds down the right side of the hole. Knowing that all he had to do was get it in the fairway, Nick played aggressively and hit a strong hooked tee shot out of bounds left. When it was discovered Brian's original ball was still in play he was able to win the hole and narrow the lead to down by two. At the thirteenth Brian hit his tee shot out of bounds left and the Nick's lead grew to three up. At the 14th Brian met misfortune again by hitting his second shot out of bounds and with Nick safely on the green in two Brian conceded the hole and Nick found himself now dormie. At the fifteenth a balky putter had Nick missing a short par putt after a well-played pitch from beyond the green. He was still dormie but the match headed to the 16th. Both players missed the fairway to the right and after Nick made a nice play to 25 feet, Brian played from a poor lie and came up short of the green. After missing an attempt to chip-in, Nick seized the moment and the match by making his birdie putt.
The final Herald Sun Classic as we have known if for 72 years has finished. For 48 years it has been played at Hillandale Golf Course and now as this event hopefully moves into the future it will have a new face and title. Please stay tuned for future announcements regarding this great event. Head over to our FaceBook page to see photos from today's play.