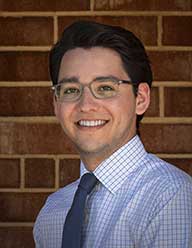 Teven Vargo

Assistant Golf Professional
tevenv@hillandalegolf.com
Born in Erie, Pennsylvania, Teven attended Harbor Creek High School and graduated from Allegheny College of Meadville, Pennsylvania with a Degree in Managerial Economics.
Teven began playing the game of golf at the age of six. Once in highschool, Teven seriously embraced the game and the golf industry. His efforts and hard work soon paid off, as he became the first golfer at Harbor Creek High School to make both the individual and team state championships. Teven has worked several roles in the golf course industry from pro shop management to greens crew at Harbor Ridge Golf Course and Peek N' Peak Resort's The Upper & Lower Course.
After graduating from Allegheny, Teven worked in corporate sales for four years in Sandusky, Ohio before moving to the Raleigh-Durham area to serve as one of our Assistant Golf Professionals. Outside of Hillandale, Teven enjoys snowboarding, biking, hiking, and competitive golf!
Teven's teaching philosophy focuses on working from the ground up and using the lower body as the engine of the golf swing.
Book a Lesson With Teven