Aerating Greens – Week of June 12th, 2023
June 8, 2023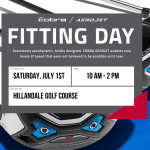 COBRA Fitting Day – Saturday, July 1st, 2023
June 21, 2023
Join us for a Father's Day Breakfast on Sunday, June 18th! 
From 9 AM – 12 PM, we will be serving a free pancake breakfast to all fathers with a purchased round of golf! 
Guests may join in on the fun with their paid round with their breakfast being only $3. 
Book your tee time via the link here!